Interview
Designer Ken Chikyu talks about his idea and the technology behind the "Goldwin Tech Pack."
"Goldwin Tech Pack," the first daypack from Goldwin brand has finally launched. Its surprisingly minimalist appearance is not to be underestimated as it is the crystallization of the brand's proud technological capabilities. Ken Chikyu, an equipment designer known for his work on numerous backpack designs, tells the story behind the technology and design that modestly but surely resulted in this product.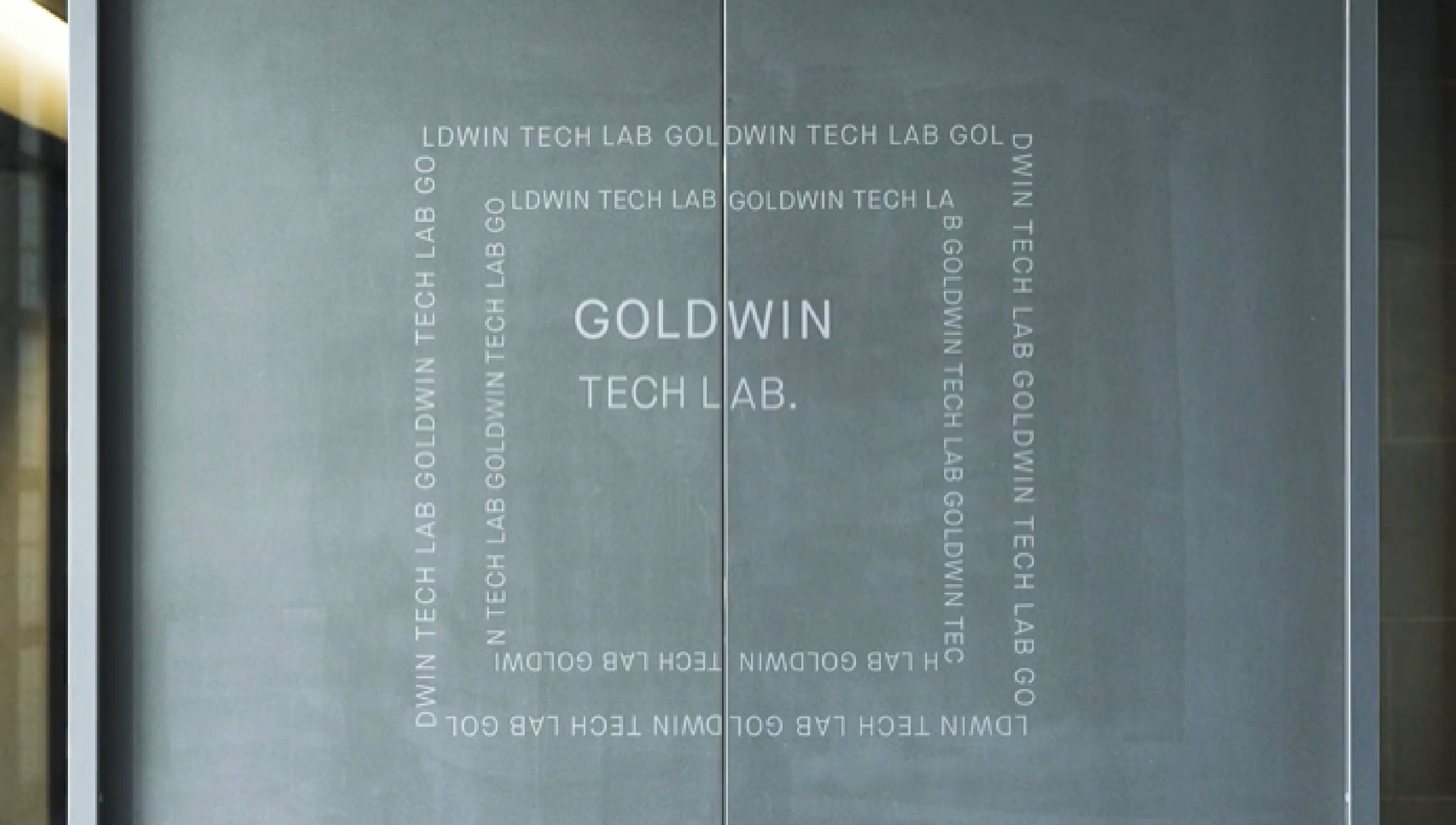 −Please tell us how you came to create the Goldwin Tech Pack.
Ken Chikyu (hereafter Chikyu): Goldwin Inc. has produced a lot of daypacks for brands such as The North Face and Helly Hansen; however, we had never made one for Goldwin brand at Tech Lab. This all started when I was offered the chance to pass on my knowhow in creating backpacks to the Goldwin brand.
At first, I had difficulty coming up with an idea as to what I should create. For Goldwin brand, which is a latecomer to the backpack market, to create what is categorized as an outdoor product comes with an extreme challenge to beat other brands that have already been producing many products in this category. I thought, "where should I aim?" So I came up with a daypack that combines both technology and the urban style that Goldwin has cultivated throughout our long history of over 70 years since it was founded.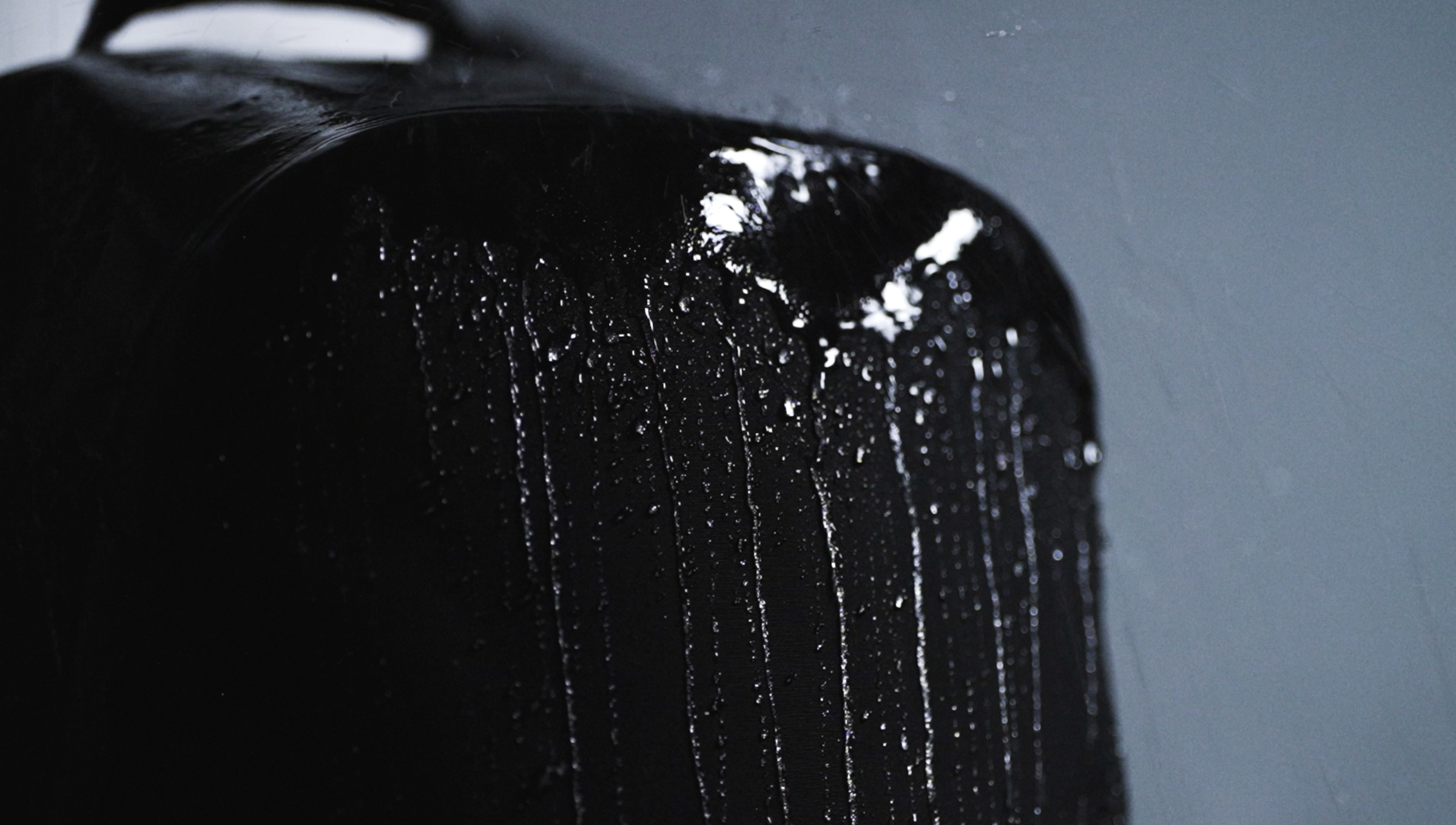 −What exactly sets this backpack apart?
Chikyu: It's a waterproof pack that makes full use of seam tape. THE NORTH FACE sells bags that use seam tape, but I have never made a daypack before. Although we have a track record with cylindrical items such as tote bags, seam tape was originally developed for jackets, and it is technically difficult to apply it to sealed bag-like items. Everyone says, "I want to make a backpack with seam tape," but it sounds easier said than done. However, I've been cooking this idea in my head for about four years.
As a matter of fact, while I was still brainstorming this, I received an inquiry from another brand overseas saying that they want to make a backpack using seam tape. Since the company is based in Hong Kong, I asked for production to be done at factories in China. But none of the factories could meet the technical and cost requirements. It just proved how challenging it is to realize this. Knowing how my previous experience went, I felt great respect for the exquisite craftsmanship of everyone at Goldwin Tech Lab when I brought my idea to them all. There was big excitement for this very first daypack challenge – they said: "Let's do this!"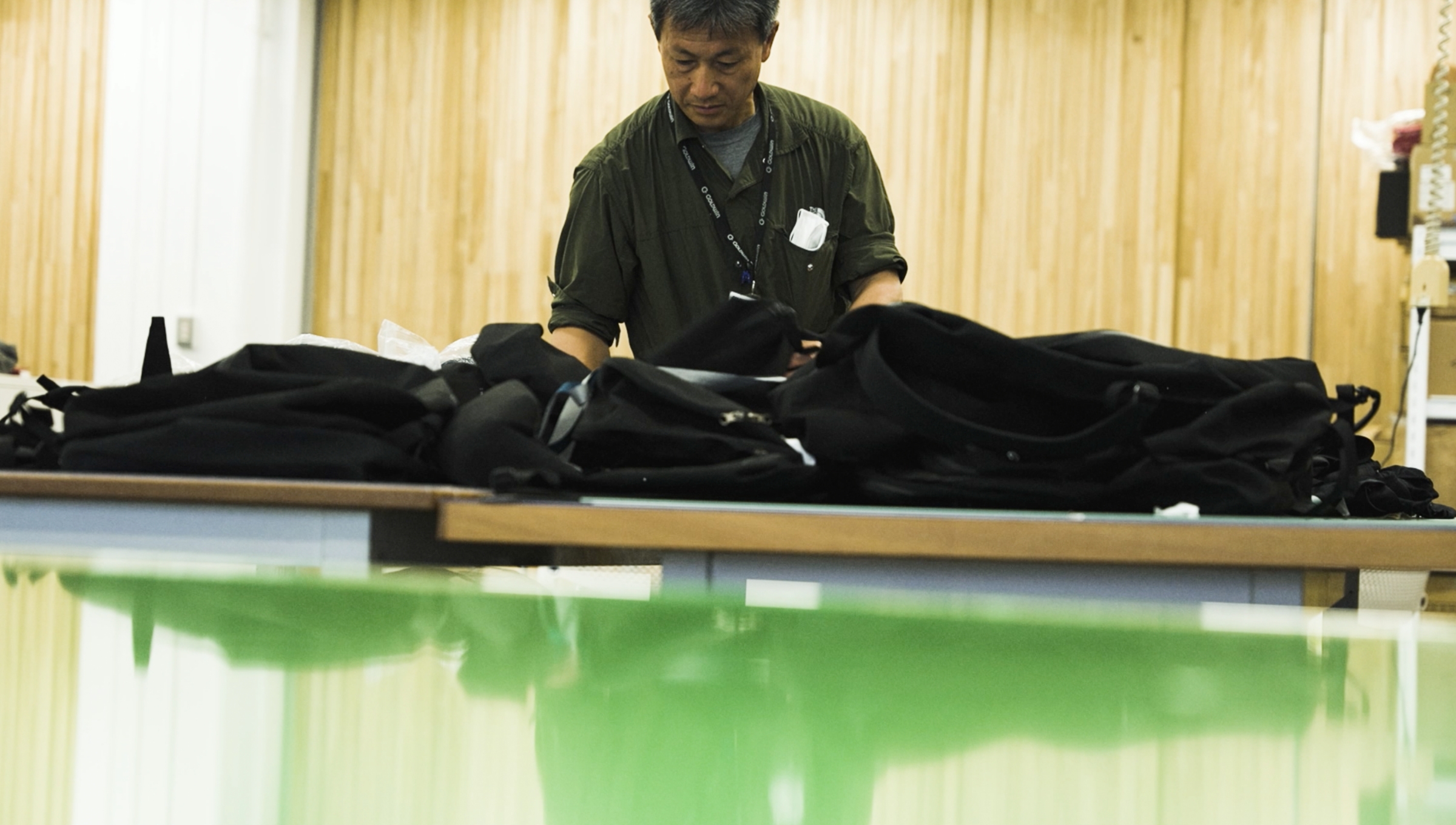 −When did this project actually start?
Chikyu: Production started in May 2022. At first, we wanted to introduce it in 2022, so we asked everyone to expedite the prototype production to be done in two weeks. We presented that to the head of the development division at the end of June, then I made further improvements before presenting to the president and succeeded in receiving an official OK. More than 10 prototypes were produced prior to finalizing. As a side note, it seems that the president is still using the prototype I gave him at the time of the presentation, which I take as the president's endorsement (laughs).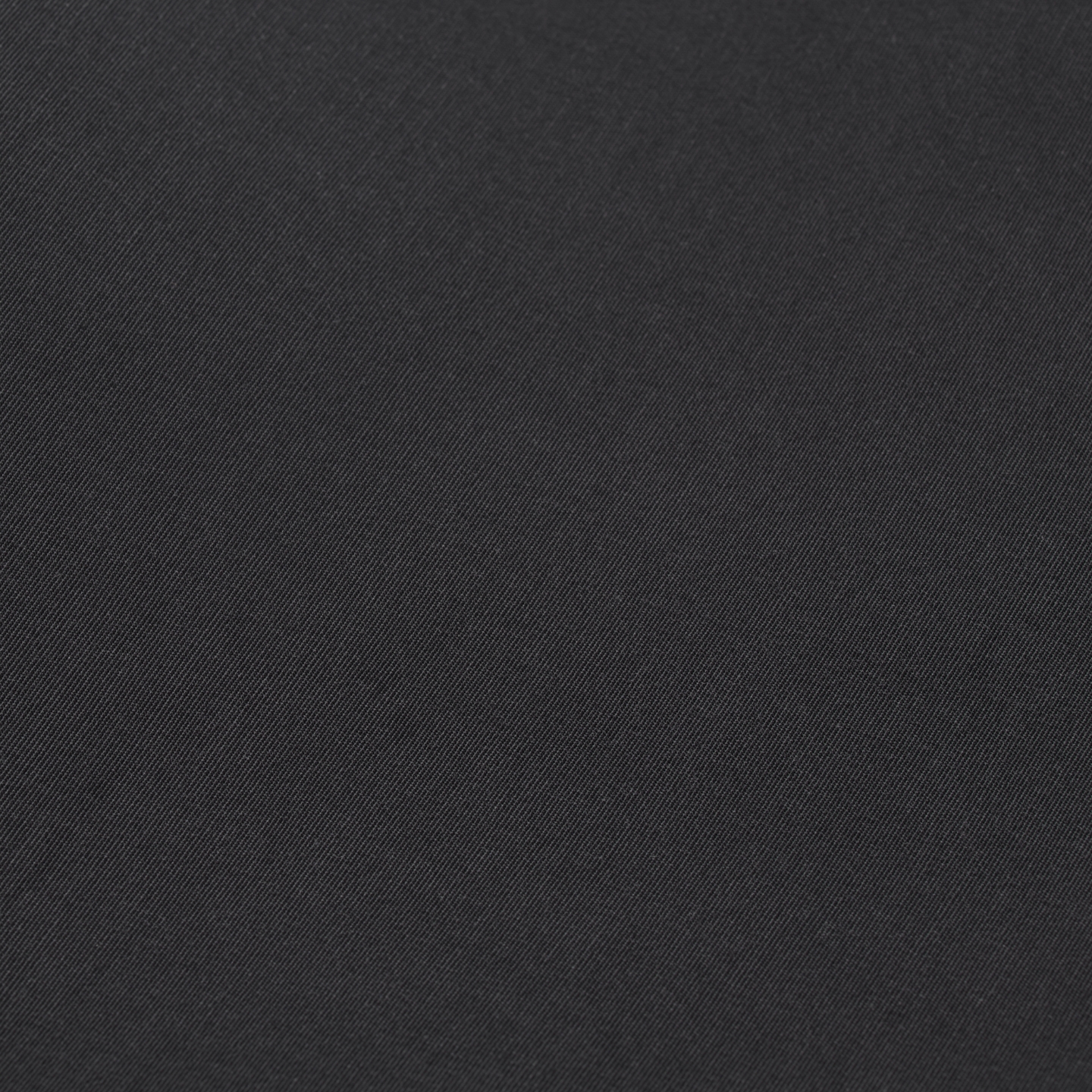 −Tell us about the technological ex that went into the Goldwin Tech Pack.
Chikyu: First, we created an entirely new original fabric. When it comes to waterproofing, the first thing that comes to mind is GORE-TEX®︎. However, the majority of its products are developed for apparel and are both waterproof and breathable – which is not necessary for bags. In addition, the base of a backpack gets rubbed frequently. This means that apparel materials are just not suitable as they are too thin to maintain the shape and tend to tear more easily. Therefore, we focused on a harder GORE-TEX®︎ version used in snow bib pants. We reinforced it by fusing waterproof nylon on the back to give it more strength, deal with the thinness and remove the moisture permeability. After numerous try-outs, I believe we were able to achieve the ideal hardness and strength. A backpack must be durable enough to last for at least 10 years.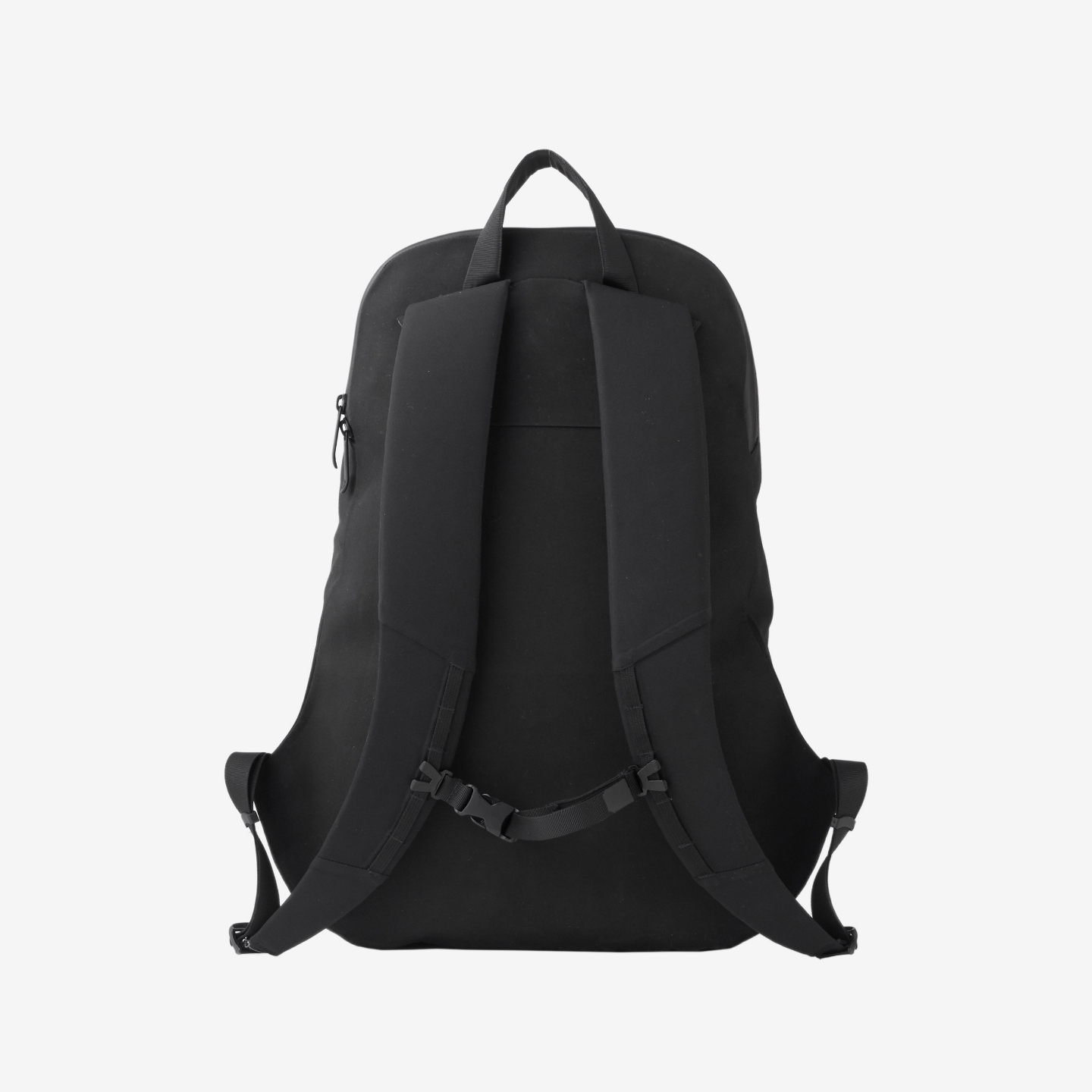 Chikyu: The shoulder straps and pattern on the back are important in achieving an ideal fit. I previously worked on The North Face shuttle series where the fabric, cushion and stretch material for the lining are all bonded together. However, it had an issue with its durability, which I managed to solve by sandwiching the film used for apparel in between. This idea of implementing a material rarely used in a bag factory wouldn't have happened without the expertise of people at Tech Lab and their experience in producing a variety of apparel products.
I tried inserting a cushion on the back at first, but it resulted in various issues such as heaviness, seam marks, and loss of esthetic appeal. I was able to solve these issues and secured appropriate stiffness and an ideal fit by layering two fabrics at the end. The base is made of two fabrics that are heat-pressed together, and the inner liner is also treated with thick PU to ensure durability that can withstand friction.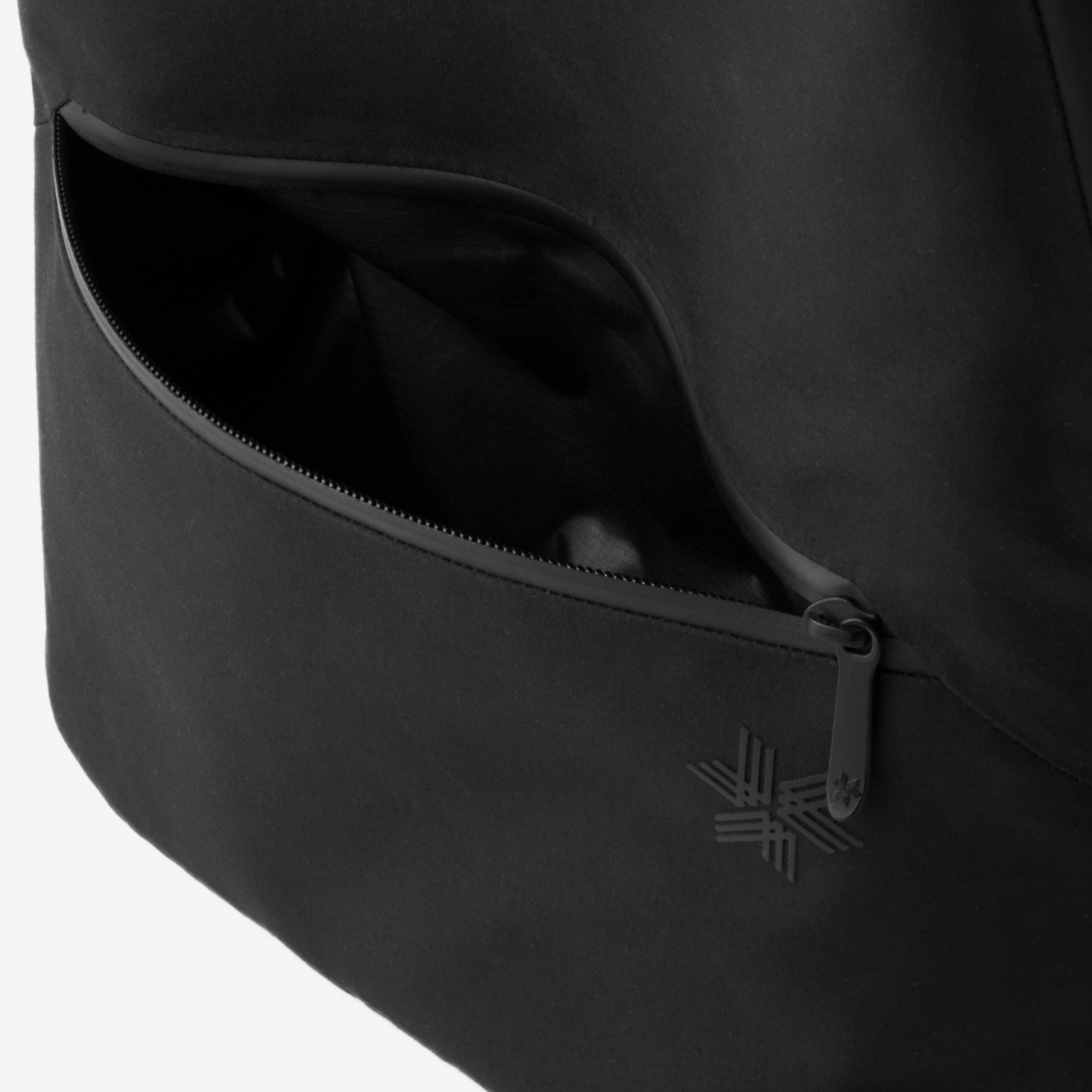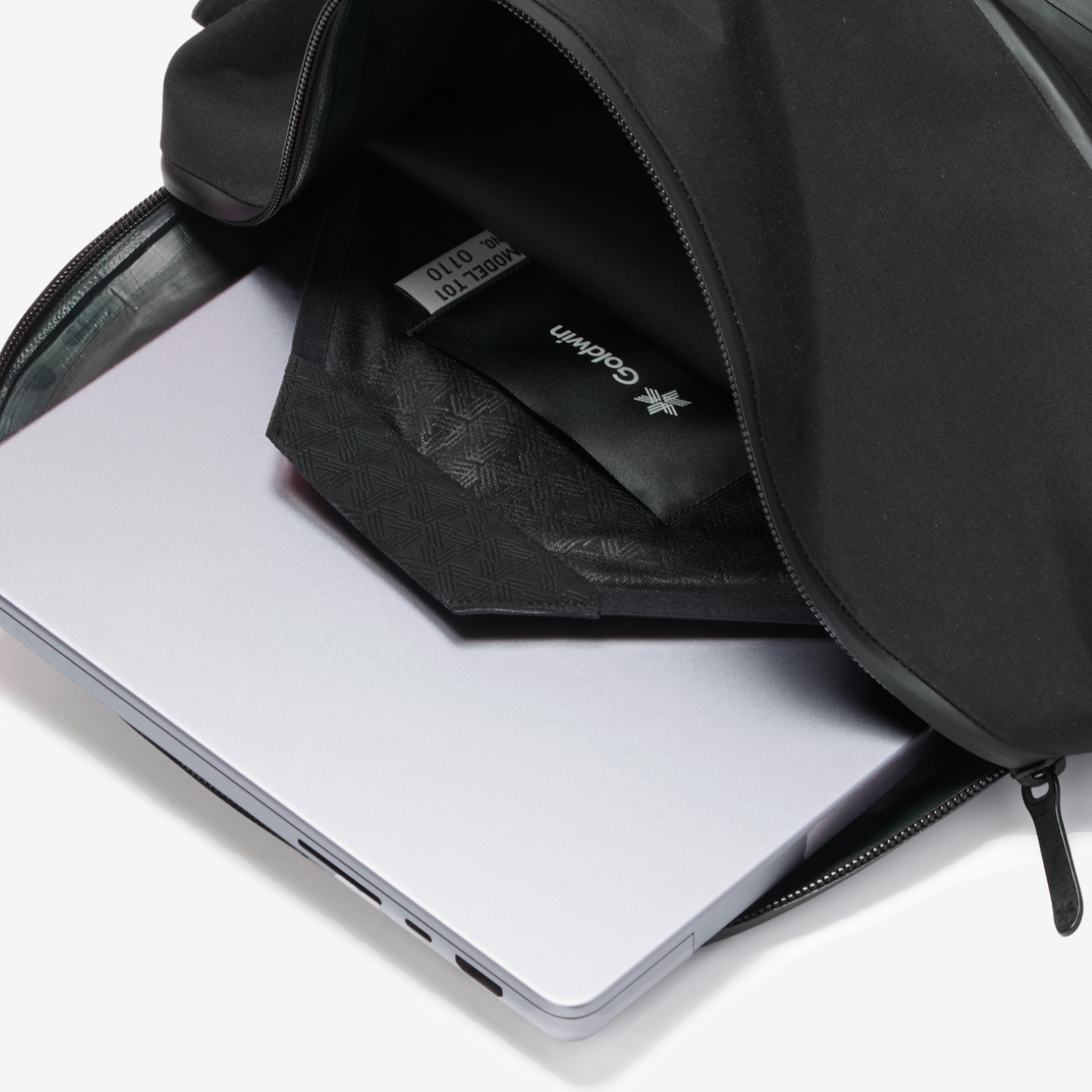 Chikyu: I put my wallet and keys in the pocket every time I use a daypack so I'm aware of its needs, but I also wanted to keep it as minimal as possible. So, I added a gusset inside the pocket to store small items in a way that no bulging occurs when things are stored inside. The interior has a main compartment with an added laptop sleeve.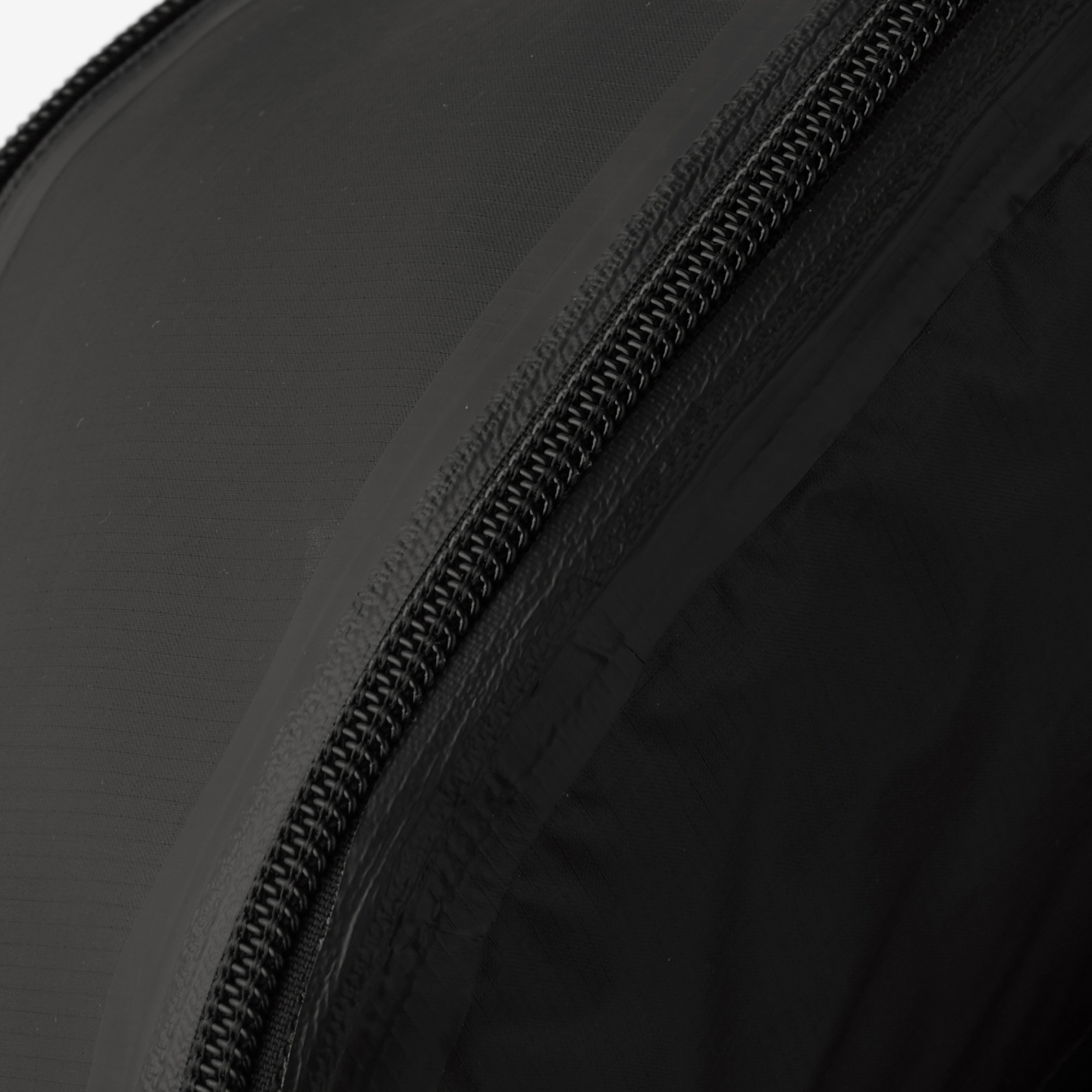 Chikyu: The seam tape was the focus since it is the identity of this daypack. And as mentioned earlier, applying it to the edges of the sealed bag is challenging. I also wanted to pursue its esthetic appeal and to make sure it didn't wrinkle when the zip was closed. I kept saying things like "it still wrinkles," "how about shortening the seam allowance to the max," and requested to cut the seam allowance down to about 3 mm. Cutting after the zipper and fabric have been sewed together can't be done in general since it is troublesome and takes a lot of time. I believe this is something I was able to do only at a tech lab in Japan. In addition, this might be the first time in history, including apparel products, that seam tape is applied at ninety-degree angle to the zipper.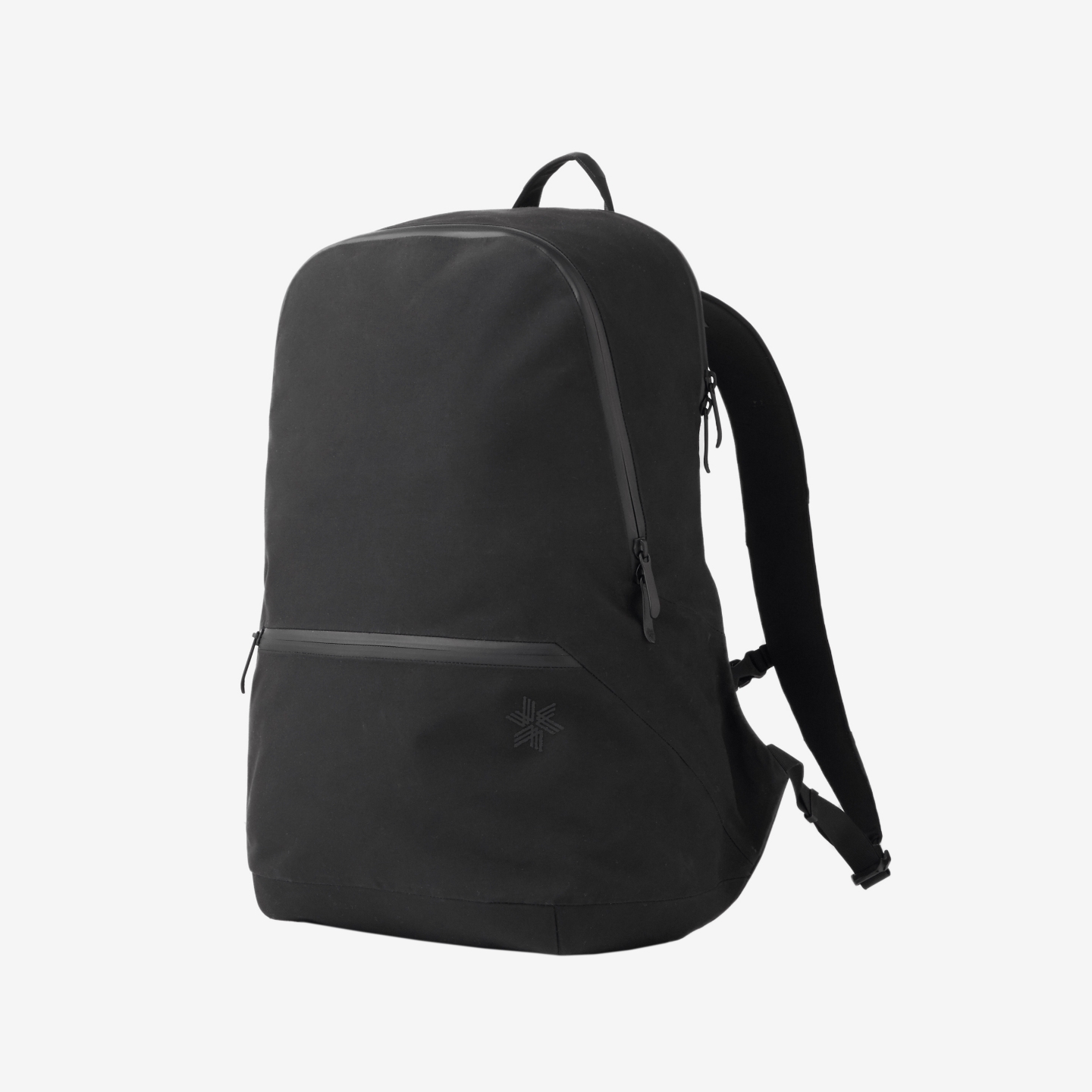 −Tell us what was particularly important to you in its design.
Chikyu: It was all about being minimalist. I had a personal theme called "Japonism" in my mind. It represents Japanese wabi-sabi style that is created through a stylish design that does not overwhelm the astonishing Japanese technological capabilities.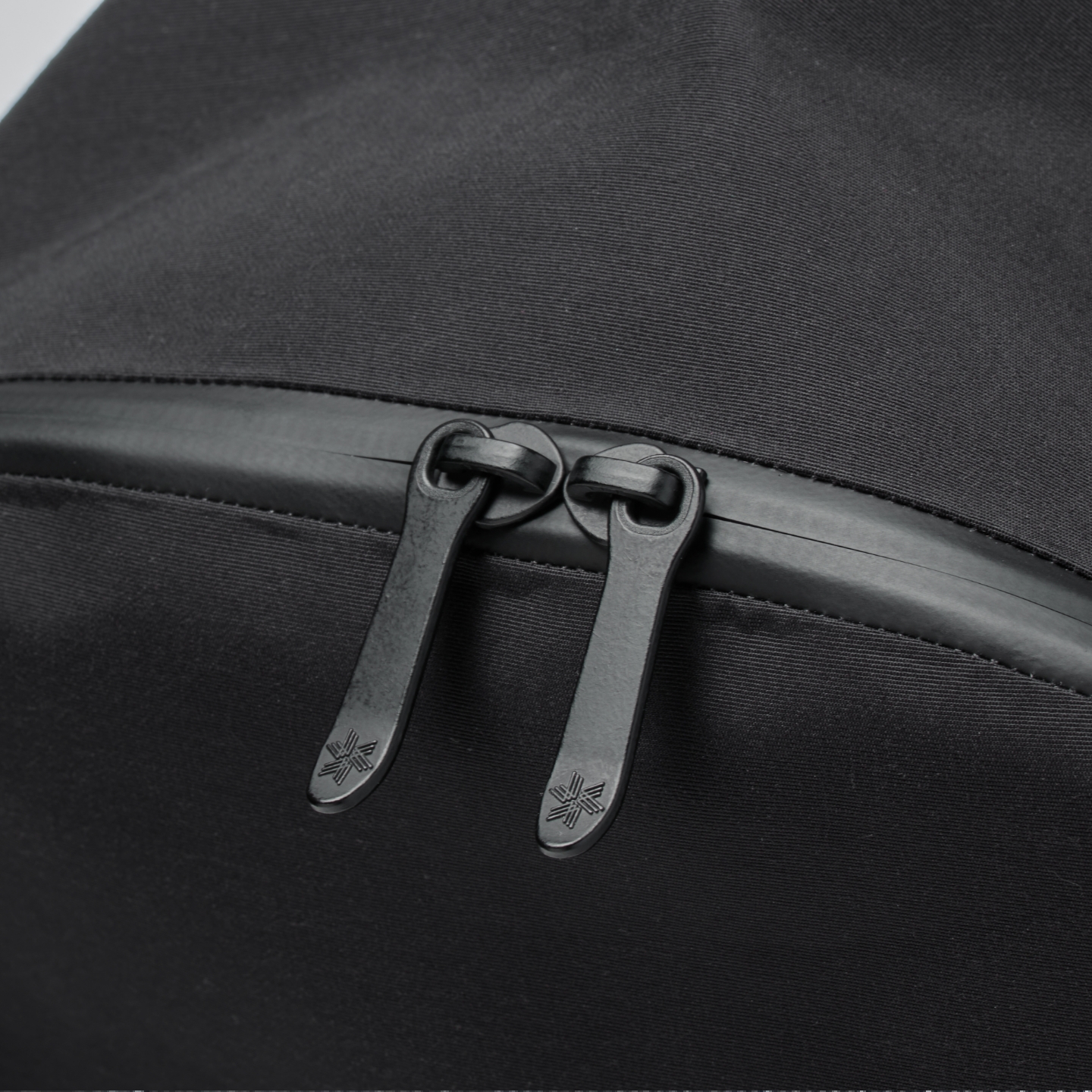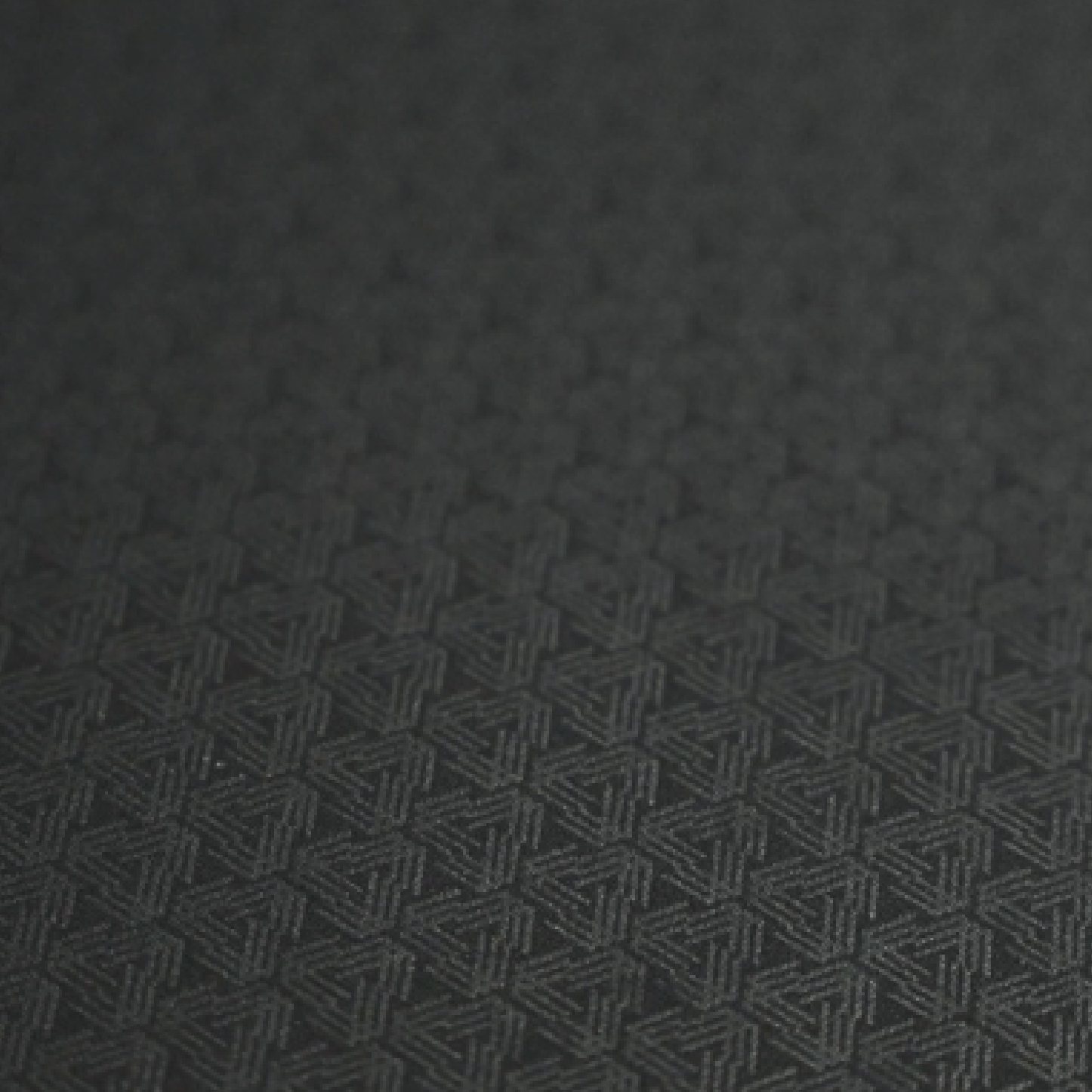 Chikyu: "Japonism" is subtly conscious down to the details. The lining has a monogram pattern that represents the Goldwin logo, which combines three elements: (1) ski trajectory and speed, (2) nature and mountain silhouettes, and (3) dynamism and energy, reinterpreted like a family crest. The elongated zipper slider draws a smooth arc that is inspired by the Japanese sword, and the ski board which is the roots of Goldwin. I actually wanted to make it longer, but this seems to be the limit considering the optimal balance with strength ... (laughs). Just for the zipper alone, we have produced more than 20 prototypes to reach the ideal shape. We were also very particular about minimizing stitches to the max except for areas requiring greater durability.
Chikyu: The logo, which represents Goldwin, is printed in black that blends into the color of the pack. I thought of eliminating the logo to truly pursue a minimalist design. But when I saw the logo print on the trail running bag our supporting athlete Dylan Bowman was carrying at Ultra-Trail Mt. Fuji, I thought it looked really stylish. As the brand's very first daypack to be offered globally, I thought it was necessary to demonstrate our pride of being an original Japanese brand. And I would like people all over the world to experience the exquisite technological prowess from Toyama, Japan.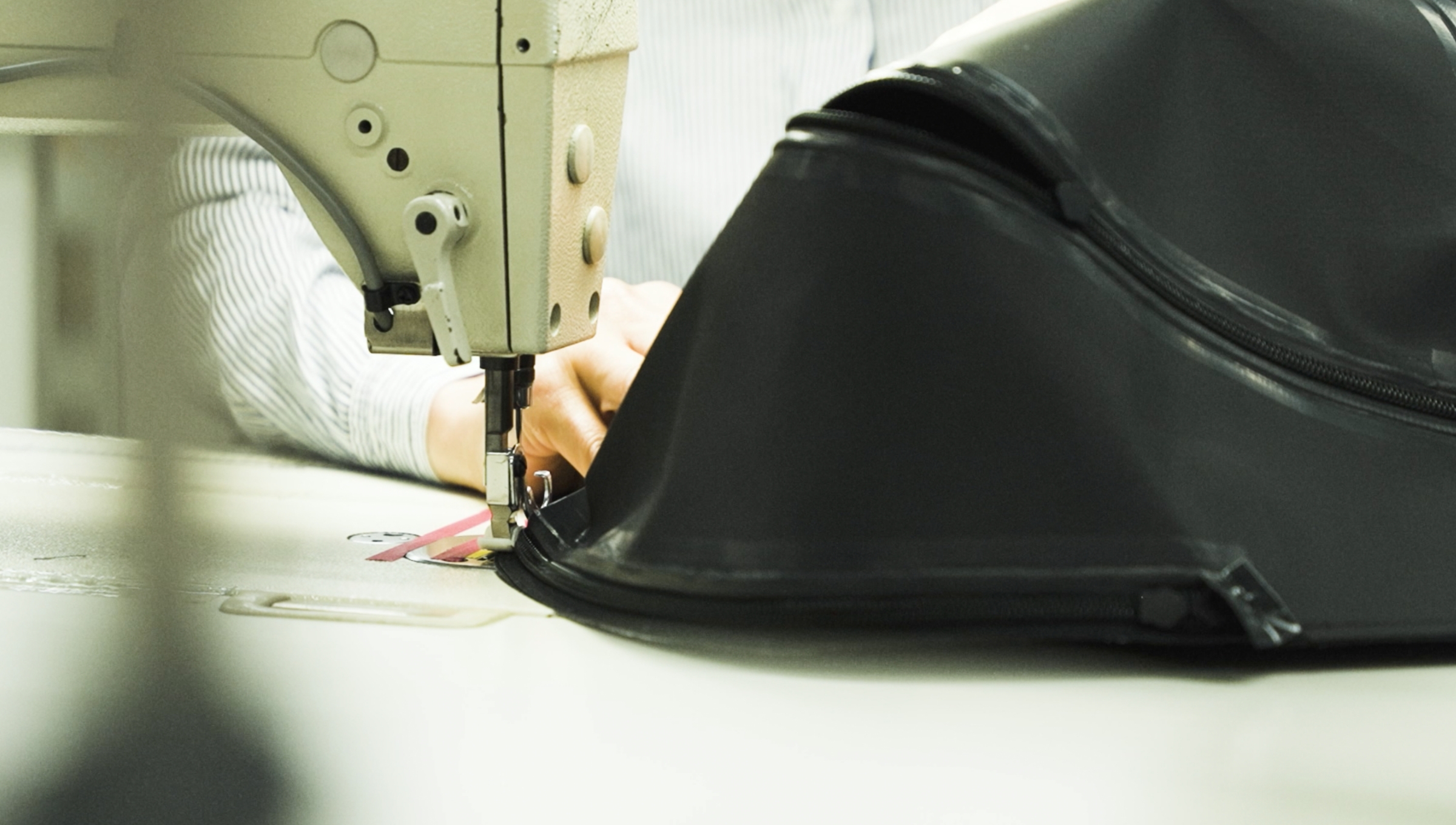 −Will these technologies be applied to other bags in the future?
Chikyu: This "Goldwin Tech Pack" is the first model, and it is limited to 200 pieces worldwide with serial numbers on each one. But if we can get the production line organized to manufacture larger quantities and lower the price, I would definitely develop a wider variety of models.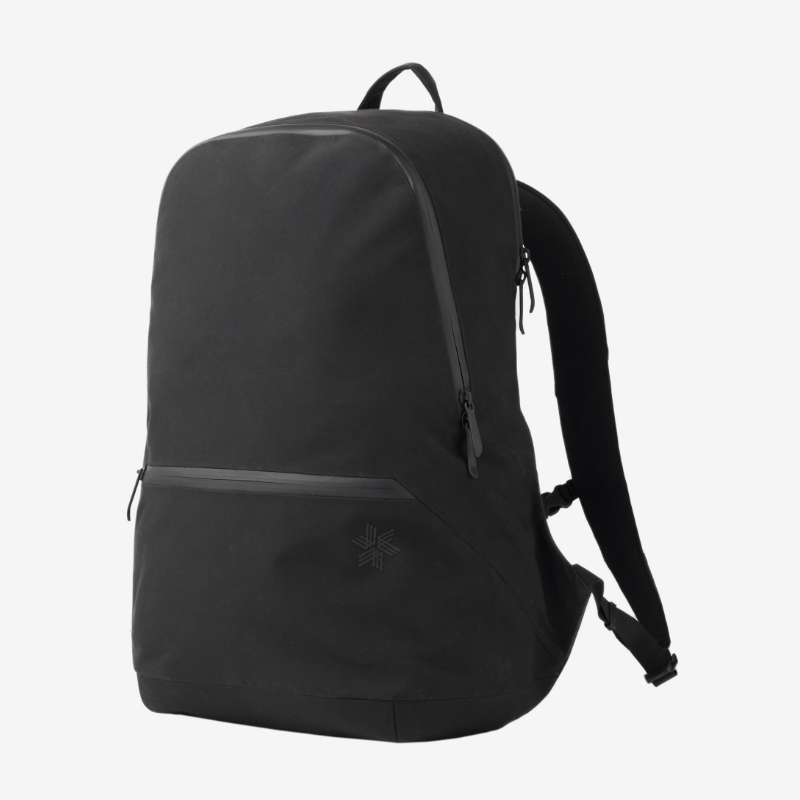 Goldwin Tech Pack
GL93399 / $850.00
Ken Chikyu
Graduated from Bunka Fashion College in 2001, majoring in design. He worked at ISSEY MIYAKE INC. In 2002, he moved to Berlin and established his own brand "CHIKYU".
He joined GOLDWIN Co., Ltd. in 2004 and created numerous backpacks and gear as a designer of the EQUIPMENT division of THE NORTH FACE.
He is currently active as an independent freelance designer and designs packs for various brands.