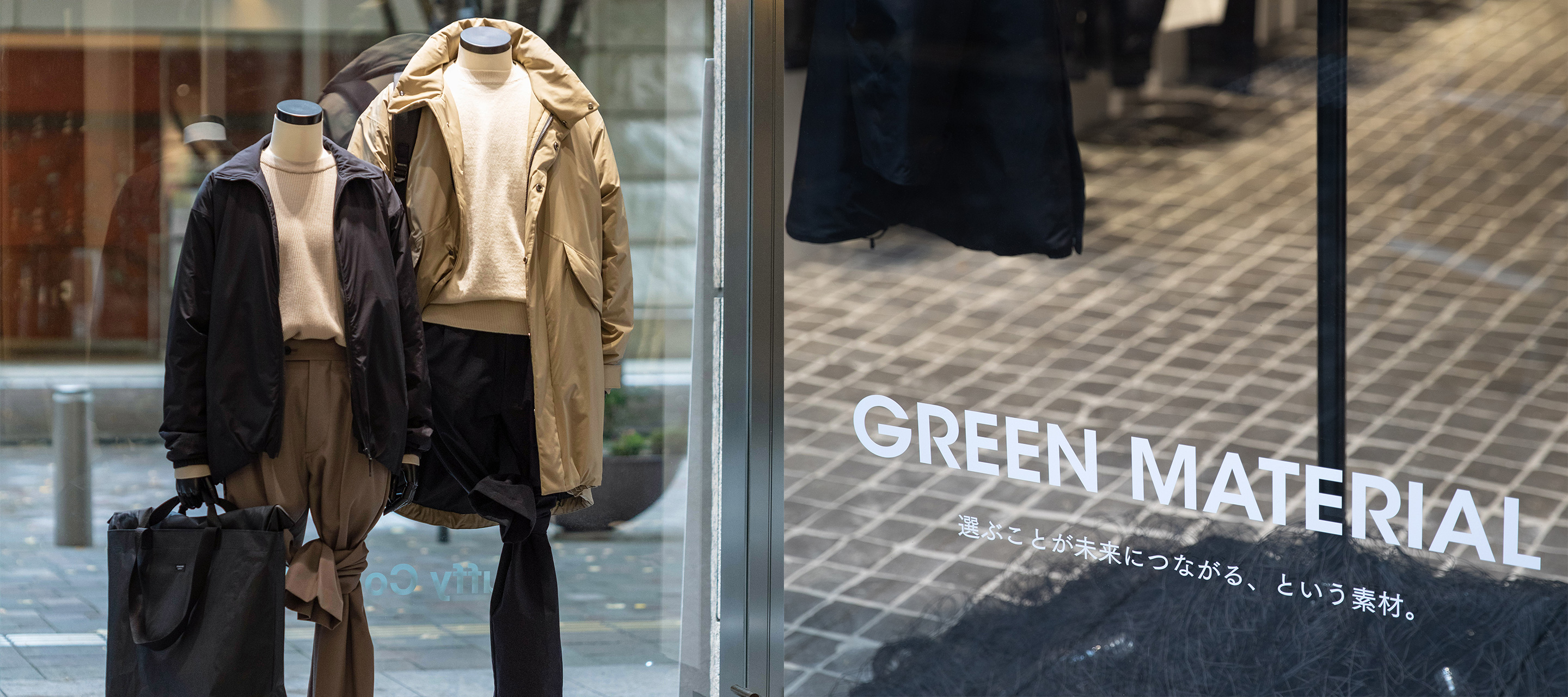 The story of eco-friendly and high-performance material
Warm, lightweight, and easy-to-move outerwear is essential to spend fall and winter seasons comfortably. Often times, outerwear is made of material with high windproof and moisture-permeable capabilities and insulation is added to increase heat retention. Choosing the right material for an insulation is very important since it greatly affects its lightness and warmth.
 
Puffy series from Goldwin focus on design simplicity and comfort with added lightweight insulation that has an excellent loft recovery. And this insulation is also a recycled material and eco-friendly.
 
The insulation used is called Suprelle blue, a recycled material made from marine plastic waste.
 
Goldwin believes in choosing GREEN MATERIAL for our sustainable and brighter future. We are committed to using recyclable fibers and raw materials derived from a fast-growing plant to minimize environmental impacts. Encouraging a mindful use of our products, Goldwin selects appropriate materials and designs items ensuring a longer product-life.
Choosing earth-friendly materials for a "future with snow"
Goldwin has been evolved with skis since founded. While we stand by the statement ;"future with snow," Goldwin commits to do more to protect the environment. Suprelle blue was chosen because it is a functional GREEN MATERIAL.
Plastics are used in every aspect of our lives because they are convenient, durable, and inexpensive to produce. Currently, most of those plastics are thrown away after a single use and are leaking into the environment. It is said that 8 million tons of plastic waste ends up in the ocean every year. The calculation shows about 15 tons of plastic garbage flows into the ocean every minute.
 
Marine plastic wastes harm sea creatures such as fish, seabirds, sea turtles, and seals, for being mistaken for food, and such wastes also get entangled in fishing nets. It is predicted that by 2050, the amount of plastic in the ocean will exceed the number of fish if the outflow continues at the current pace.
Suprelle blue is an insulation developed in a partnership between Plastic Bank, an organization working to reduce marine plastic waste and poverty, and German textile manufacturer ADVANSA. While creating jobs for those in coastal countries by collecting plastic waste in, Plastic Bank gathers such wastes to produce PET flakes. ADVANSA purchases them and produces this insulation.
 
Using 200g of this insulation in 1 outerwear contributes to eliminating marine plastic waste which is equivalent to about 7 plastic bottles. It may not be significant, but we believe each small steps will lead to the brighter future.
High-performance material that holds plenty of air
There is no need for compromising functionality with the use of recycled insulation material. Suprelle blue is characterized by excellent loft retention and recovery. Each fiber has a hollow structure with 4 holes that can hold plenty of air which leads to higher heat retention.
 
This unique 4-hole structure contains plenty of dead air to enhance warmth providing moderate volume and provides softness and lightweight that keep you extremely cozy.
Thus, this insulation can recover its original shape and maintain its loft even after long-term wearing or storing, and repeated washing. In short, it provides long-lasting comfort, ensuring longer life of a garment.
Warm and light Puffy Series
Goldwin's Puffy series uses marine plastic insulation derived from recycled marine plastic waste. The outer material is GORE-TEX INFINIUM PRODUCTS with excellent windproof and moisture permeability. Both the outer and lining materials are supple and comfortable to wear. It will keep you warm and comfortable during the fall and winter seasons.